3rd Iteration of the Survey on National Education Responses to COVID-19 School Closures
As part of the coordinated global education response to the COVID-19 pandemic, UNESCO, UNICEF, and the World Bank have collaborated with OECD for the third round of the survey designed for ministries of education to better understand their responses to school closures and subsequent re-openings at the inception of 2021.
The survey aims to generate inputs to better understand the impact of COVID-19 on various aspects related to the education systems, as well as the policies implemented to assess and remediate them, including strategies to ensure equity and safe reopening of schools for all.
Concept note
Webinar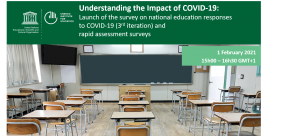 On 1 February 2021, the UIS hosted a webinar, Understanding the impact of COVID-19, dedicated to the 3rd iteration of the survey and focused on its content and the main education aggregates which it is tracking.
Concept Note: English - Français - Español
Video: English, French, Spanish*
* Solo audio. Tenga en cuenta que la interpretación en español comienza en el minuto 1:16
Presentations
Fill in the survey
The deadline for completing the survey questionnaire, available for completion online in English, French, Russian, Spanish and Arabic, has been extended until 31 March 2021.
Access the online questionnaire here [https://jsw3.questionpro.com].
The questionnaire is also available for download: